Produktbeschreibung
Technische Daten
einzigen System einzelne Wagen, 3G 52" für Schal stricken kindlichen
PRODUKTMERKMALE:
1,Specialcam Design lassen den Wagen stricken verändert das Original magnetische Kontrolle in Motorsteuerung.
2, Klein, können Wagenrücklauf schnell, verbesserte Arbeitseffizienz.
3, Design-System, hergestellt durch Hengqiang neue 16 Garn Träger Software, mit hoch    Kompatibilität und Portable
Betrieb.
4, Nadelbett nimmt die Fräsen Querflöte Methode, Struktur mit spezielle Verfahrenstechnik, es kann abschließen
komplexere Muster, erreichte Multi-Funktion System Nadel Einzelbett.
MASCHINENGRÖßE
| | |
| --- | --- |
|  LONG (MM) | 2700 |
|  WIDE (MM) | 930 |
|  HIGH (MM) | 1800 |
TECHNOLOGIE-PARAMETER
GAUGE

 5G,6G,7G,8G,9G,10G,12G,13G,14G,15G

KNITTING SYSTEM

 SINGLE SYSTEM SINGLE CARRIAGE

KNITTING WIDTH 

 52"(INCH)

KNITTING SPEED

 MAX.1.2M/SEC

KNITTING FUNCTION

 TRANFER,TUCK,MISS,JACQUARD,INTARSIA,HIDE OR APPARENT SHAPING.

STITCH DENSITY

STITCH SYSTEM CONTROLLED BY STEPPING MOTOR,32 SECTION STITCH SELECTABLE,ADJUSTABLE SCOPE SUPPORTED BY SUBDIVISION TECHNOLOGY:0-650.

RACKING

 CONTROLLED BY AC SERVO MOTOR,RACKING WITHIN 2 INCHES AND WITH FINE ADJUSTIING FUNCTION.

DRIVE SYSTEM

 SYNCHRONOUS BELT DRIVE,AC SERVO SYSTEM.

NEEDLE SELECTION

 CONTROLLED BY COMPUTER,ELECTRIC MAGNET NEEDLE CHOOSE SYSTEM WITH HIGH EFFICIENCY.

YARN CARRIER

 1x8YARN CARRIERS ON EACH SIDE OF 4 GUIDE RAILS,SHIFTABLE ON ANY NEEDLE POSITION.

TAKE DOWN ROLLER

 PROGRAMMED INSTRUCTION CONTROLLED BY STEPPING MOTOR,32 SECTION LEVELS SELECTION ADJUSTABLE AREA:0-100.

PROTECTION SYSTEM

THE MACHINE WILL AUTOMATICALLY ALARM IF YARN BREAKING,FLOAT YARN,REWIND,END OF KNITTING,FAIL OF RACKING,NEEDLE BREAKAGE AND ERROR PROGRAMMING OCCUR ECT.

CONTROL SYSTEM

1,ADOPT LCD SCREEN,INPUT DEVICE:USB,SYSTEM MEMORY 256MB,A GREAT AMOUNT OF DESIGN FILES CAN BE STORED.

2,MONITORING MENU,EACH KIND OF ORERATING PARAMETER,CAN BE SHOWN,AND THEY CAN BE ADJUSTED AT ANY TIME WHEN THE MACHINE IS RUNNING.

3,DESIGN SYSTEM IS VISUAL AND EASY TO UNDERSTAND AND UPGRAD.

4,MULTI LANGUAGE VERSION,THERE ARE CHINESE,ENGLISH ETC.

POWER

 220V,SINGLE-PHASE,HAVE MEMORIZING FUNCTION AT THE POWER-OFF MOMENT.

 
DIESE SERIE UMFASST DIE MODELLE
| | |
| --- | --- |
| MODEL | EXPLAIN |
| GSJX-1-44 | SINGLE SLOT,44",SINGLE CARRIAGE |
| GSJX-1-52 | SINGLE SLOT,52",SINGLE CARRIAGE |
| GSJX-1-60 | SINGLE SLOT,60",SINGLE CARRIAGE |
| GSJX-1-80 | SINGLE SLOT,80",SINGLE CARRIAGE |
| GSJX-(1+1)-80 | 1+1 SYSTEM,80",DOUBLE CARRIAGE |
| GSJX-1-44C | SINGLE SLOT,44",SINGLE CARRIAGE,COMB  |
| GSJX-1-52C | SINGLE SLOT,52",SINGLE CARRIAGE,COMB |
| GSJX-1-60C | SINGLE SLOT,60",SINGLE CARRIAGE,COMB |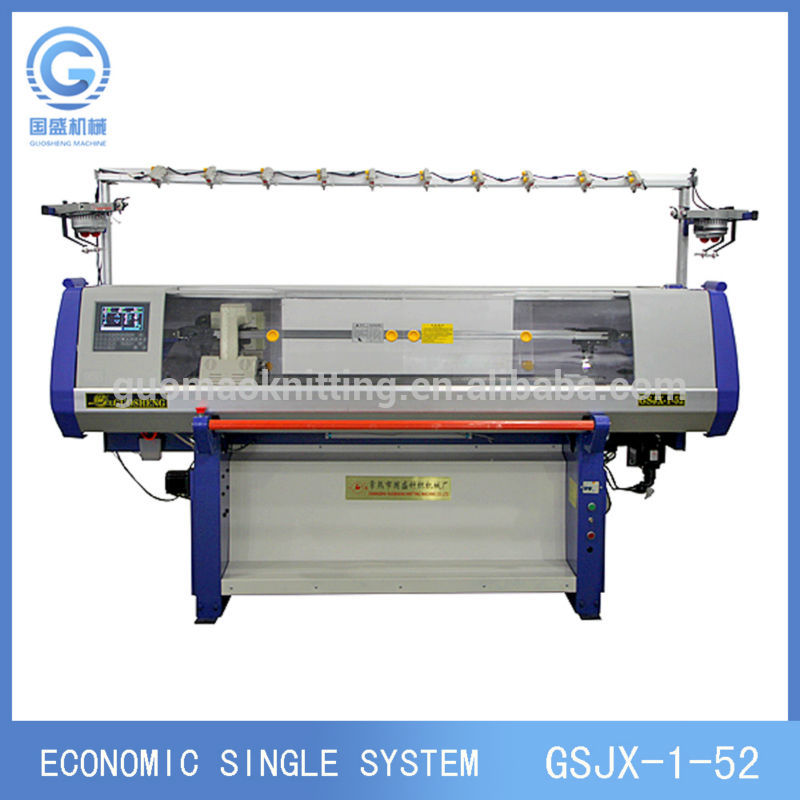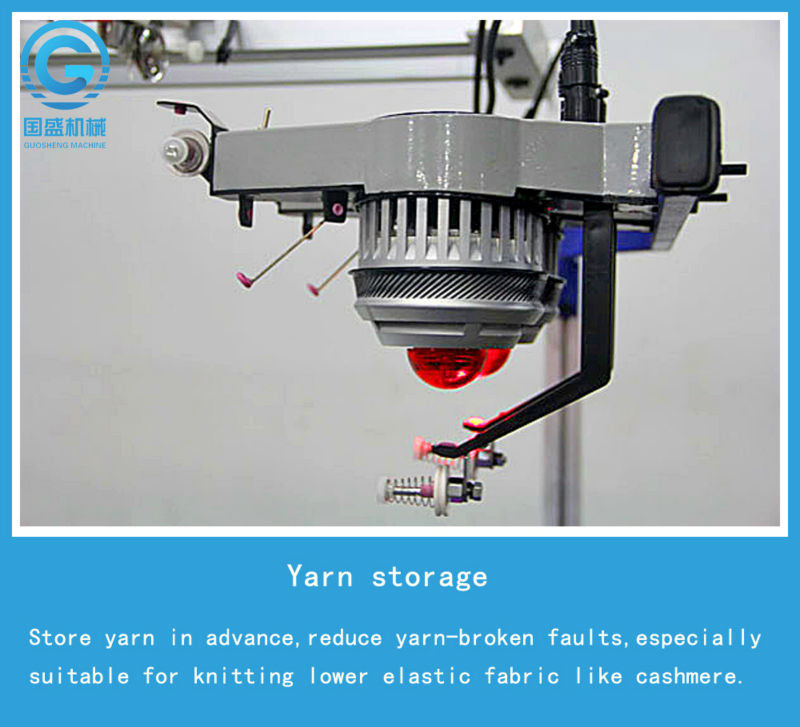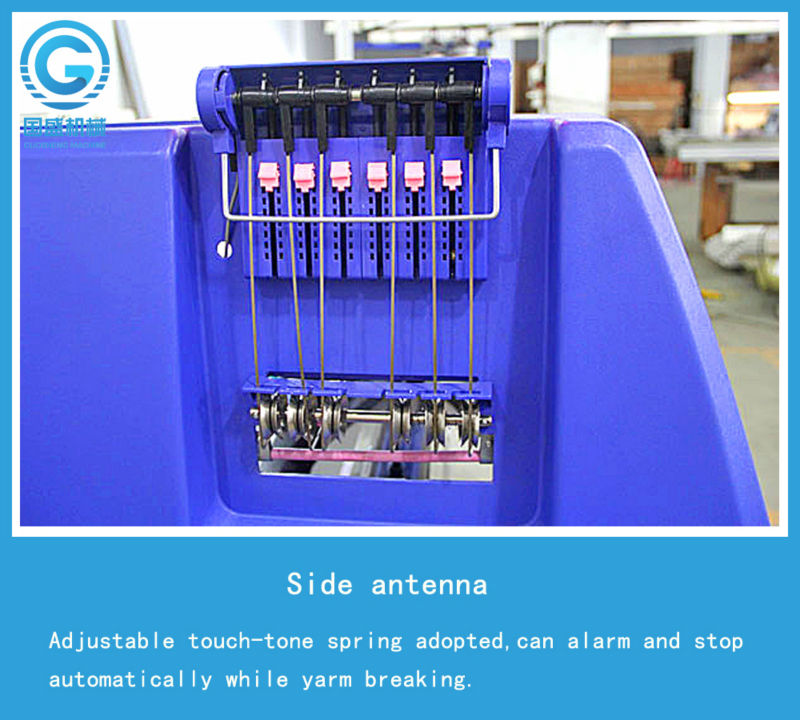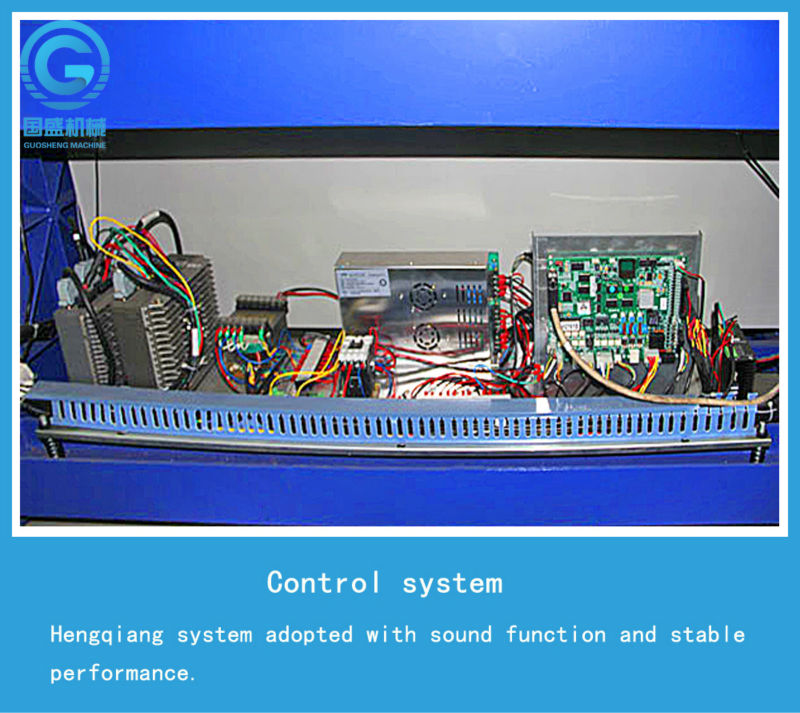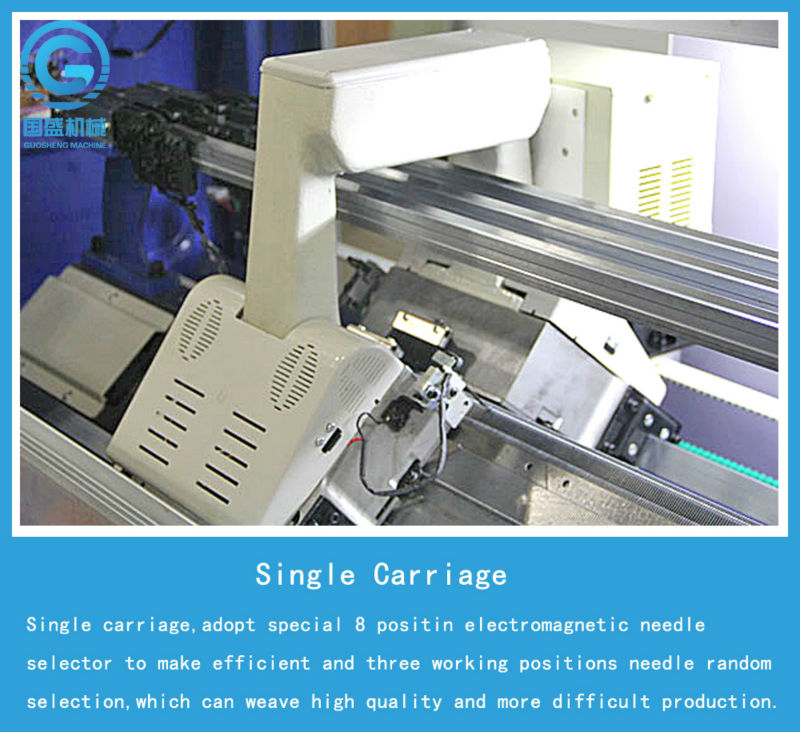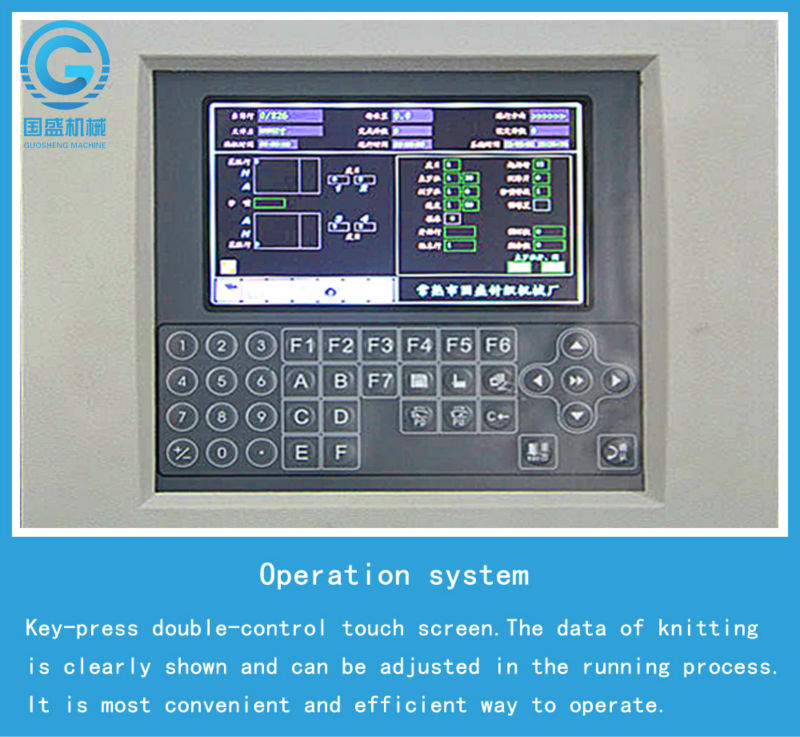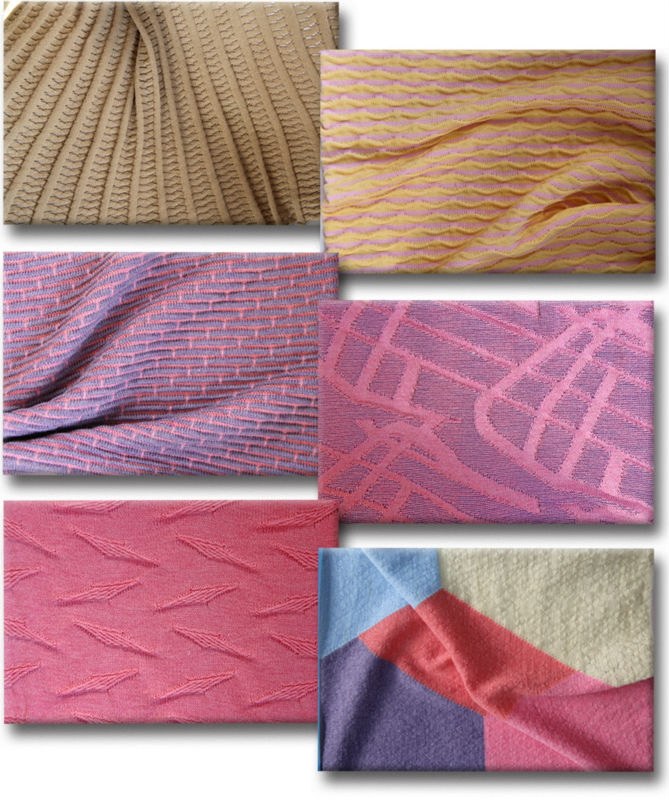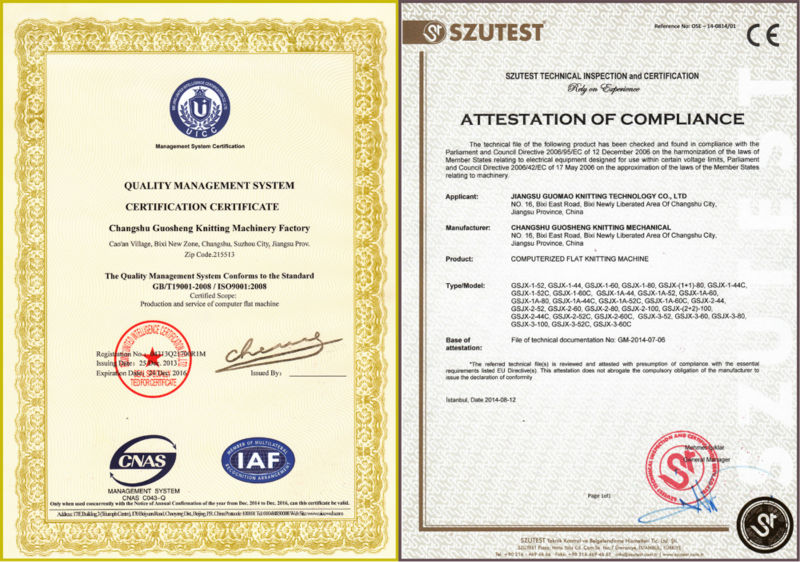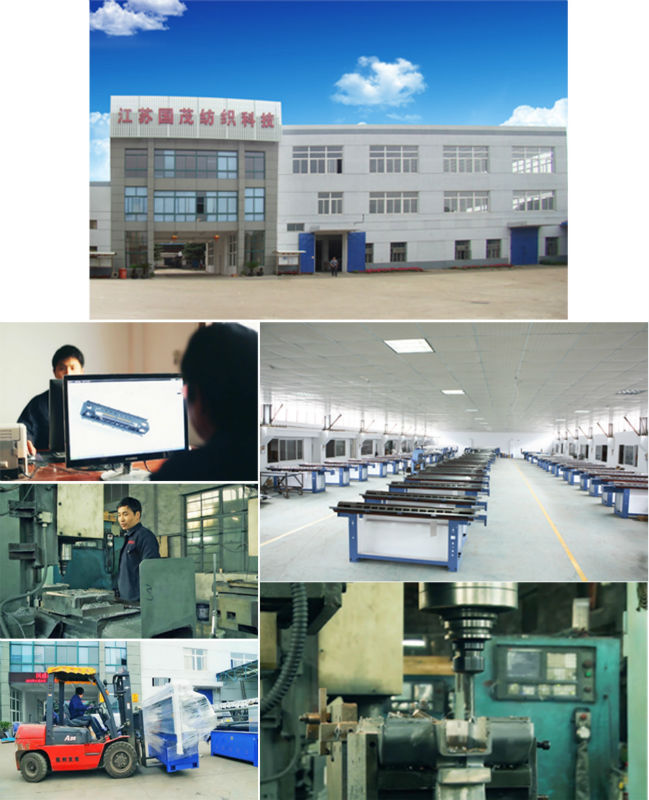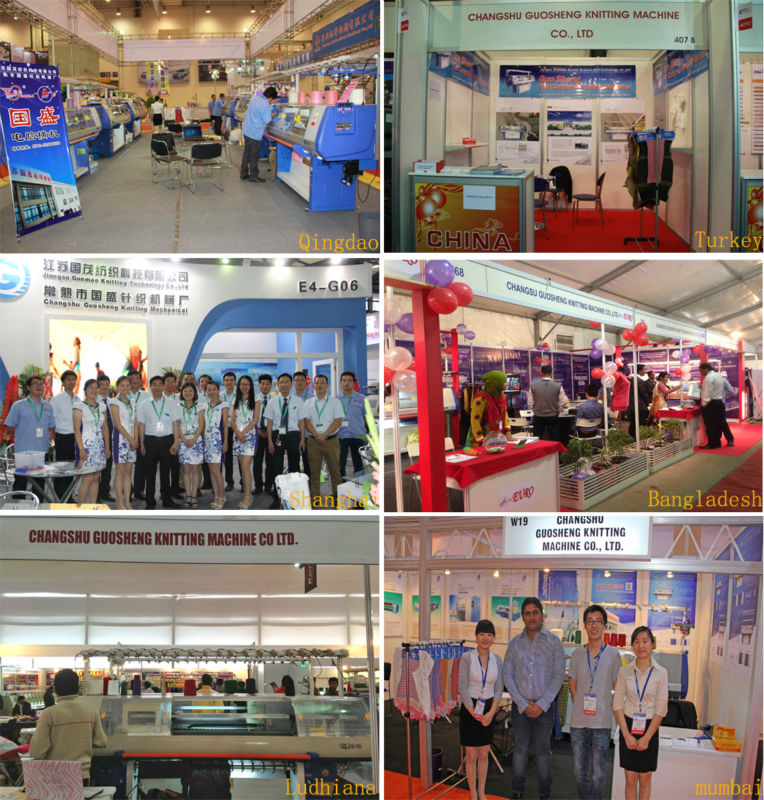 Produktgruppe : Auto Flachstrickmaschine > Einzelsystem